Top provider of NADCAP accredited
chem film conversion coatings.
These specifications cover chemical conversion coatings formed by the reaction of chemical conversion materials with the surfaces of aluminum and aluminum alloys. This specification has been approved by all the departments and agencies of the US Department of Defense (DOD) and has also been adopted by other industries as well. Chem Film is also a great pre-treatment for Military Application Chemical Agent Resistant Coating (CARC) specification liquid paints and Powder Coatings. Metal Chem Inc. has developed an approved immersion process in full compliance with this specification.
Chemical Film (Chem Film), coatings are gelatinous films which provide a barrier to retard corrosion on aluminum surfaces and enhance adhesion of subsequent coatings such as paints and primers. Materials used produce coatings that range in color from clear to iridescent yellow or brown. They are electrically conductive to give a measure of corrosion protection.
The corrosion protection extent among other benefits offered by this Chemical Conversion Coating process is dependent on the specified Type and Class used which is directly linked to the required application. This process is classified by two types based on the desirable surface finish appearance along with the parts chemical composition. Additionally, we offer different classes based on the materials which form protective coatings by chemical reaction with aluminum and aluminum alloys.
METAL CHEM PROUDLY OFFERS A CRANE SYSTEM THAT ALLOWS US TO PROCESS PARTS UP TO 1000 LBS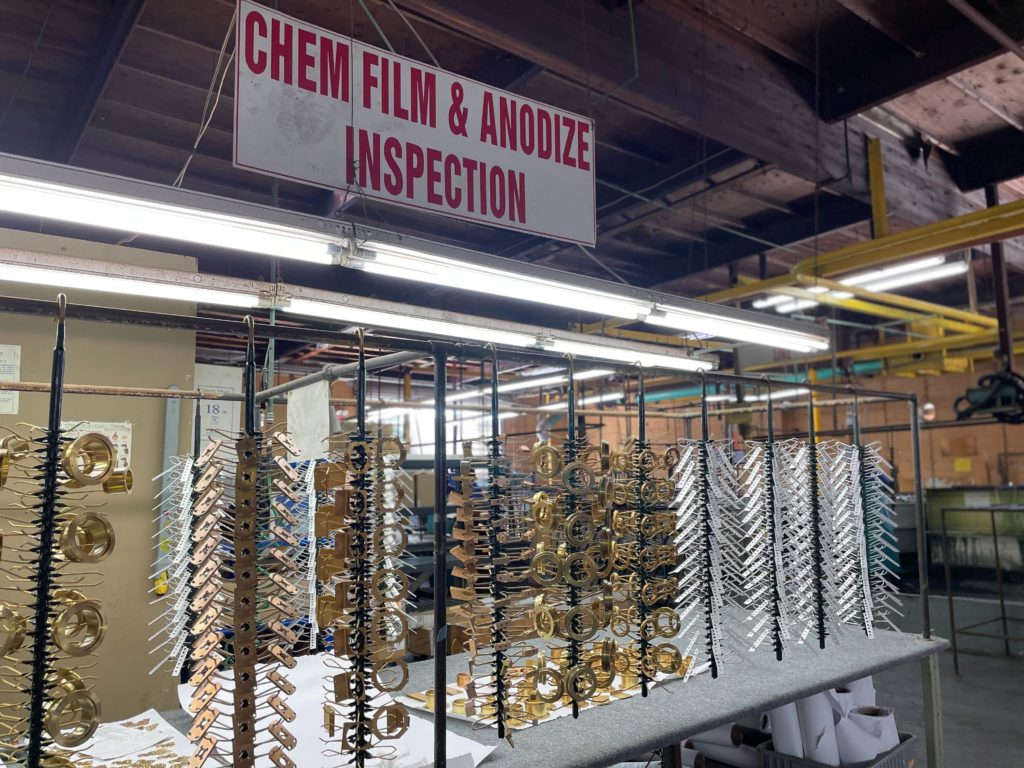 chem film conversion coating
With a facility that boasts more than 15,000 square feet, our headquarters includes an in-house laboratory and state-of-the-art technology that's unparalleled in the metal application industry. You can feel confident that your project is in the hands of experts – our team of control managers has decades of experience in the science of metal finishing, metal plating, and chemistry.
NADCAP Audit Criteria for Solution Analysis and Testing
CHEM FILM Quality Control
At Metal Chem, we take the necessary steps to prep your metal prior to chem film application. If masking is required, our team includes dedicated experts that handle the masking in-house.
Metal Chem Inc. maintains the appropriate process controls for our chemical conversion and electroplating processes which require titration, coating weights, pH, and TDS verification.
Metal Chem uses sophisticated process controls and analysis to ensure all of our final products meet the standards of our accreditations and mil-spec testing validation requirements. 

Aerospace & Military Metal Applications Approvals
Since 1991, Metal Chem Inc. has become one of the premiere metal plating and finishing companies in the country. Our NADCAP accreditation has allowed us to proudly fulfill the metal application needs of top technology pioneers in the aerospace, military and naval industries. As an industry leader in spec plating and metal finishing, our team has decades of experience handling complex projects that require a sophisticated level of detail.
Find answers to the most frequently asked questions about the chem film process.
Email
info@metalcheminc.com
Address
21514 Nordhoff Street
Chatsworth, CA 91311
Business Hours

Monday - Friday
8:00 AM - 4:30 PM